You might have heard that you have about 7-8 seconds to create a good first impression. Understanding how to create a good first impression is important and knowing what to wear to a job interview is key. You'll want to be remembered as a confident, smartly dressed professional. Aside from what you wear to a job interview, it's also important to behave confidently and professionally.
The Basics
Before we move onto to what to wear to a job interview, let's look at some other job interview basics:
Avoid eating strongly flavoured foods before your interview. This is particularly important if your interview is scheduled after lunchtime. Stick with a simple sandwich or salad minus garlicky spreads or dressings. Be sure to check your teeth before the interview, to be sure you have no food or lipstick stuck to them.
Hair should be freshly washed and neatly styled. If you're a woman, you might find wearing your hair in an up-style more manageable. This has the added benefit of removing the temptation of fussing with it before or during the interview.
Women should stick to natural nails or wear a neutral tone polish being sure the polish is not chipped. Men should pay attention to their nails too, making sure they are clean and neatly trimmed.
If you're a smoker, wash your hands after your last cigarette and have some mints handy to freshen your breath before the interview. It's also a good idea to have some bottled water with you to keep yourself hydrated.
What to Wear
It's easy to agonize over what to wear to a job interview long before the big day. The general rule is to dress equal or a step above what is worn by employees on a daily basis. It's worth doing some research beforehand to find out how employees dress. If possible, visit the workplace to see for yourself how employees dress. If you can't visit the workplace yourself, ask someone you know who might have worked there or done business with the company. Failing this, check out the company's social media feeds to see if they post photos of employees in the workplace.
Formal interview clothing
For most corporate office jobs a suit or blazer is advisable along with a collared, button-up shirt or blouse, trousers or skirt. Try and keep clear of overly bright colours and gaudy patterns. White, pinstripes or soft pastels are fine and if wearing a tie, be sure it's not too 'loud'.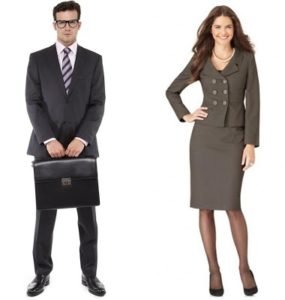 Smart-casual Interview Clothing
If the workplace is a very casual one, you could consider dressing in a 'smart-casual' style. This might be a collared, button up shirt or nice blouse along with trousers or a skirt. If you are interviewing for a creative role, you could consider adding a scarf or other suitable accessories but the key thing to remember is that less is more. Keep your look classic and simple and you can't go wrong.
Be careful however of going too casual though. No plunging necklines (that goes for men as well as women!), short skirts or visible undergarments. Steer clear of sandals and leisure wear. Here's a simple example of smart-casual wear:
Smart-casual wear for women
Summary:
You only have a short period of time (about 7-8 seconds) in which to make a good impression during an interview. Think carefully about what to wear well ahead of your interview day.  Decide on whether you should wear formal or smart-casual clothing to your interview. Also follow these key rules:
Dress according to the work environment
Don't wear too much jewellery
Remove any facial piercings
Clean hair and nails
Fresh breath
Don't apply too much perfume/aftershave
Clean shoes (shine if necessary)
Make good eye contact and greet every interviewer personally
For more tips on dressing appropriately for a job interview, watch this short video produced by Monster on What To Wear For A Job Interview:
If you have any specific questions about how to dress for a job interview please post them in the comments section below for an answer.